Hic iacent tomas m'knefeld miles et elenor uxor (ejus ille obijt pri)mo menc' maij anno d['ni mcc]ccolxxxxvij qi fuit seneschallus isti' ville et kurkbi malliede et elenor [ohijt] vo die menc' maij ao d'ni mccccolxxxxiij.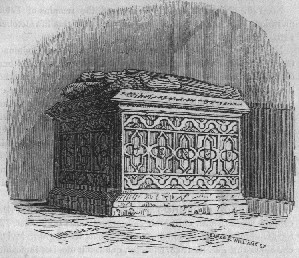 No. 125. Sacred to the memory of John Lister, Esq., descended from the Listers of Braithwaite Hall, in this county, he died the first of September, 1788, aged 84 years; Elizabeth, his wife died the first of June, 1772, aged 70 years.
No. 126. Near to this place lie the remains of George Sinclair, only son of the late George Sinclair, M.A., Rector of Wilford, in the county of Nottingham; and of Martha, his wife who died April 8th, 1804, aged 31 years. During his short pilgrimage on earth, he was exemplary as a dutiful son, an affectionate brother, an honest man, and a pious christian. His afflicted mother has erected this as a small tribute to the memory of so beloved a son.
No. 127. Sacred to the memory of Miles Staveley, Esq., of North Stainley, General in his Majesty's Forces and Colonel of the 4th, or Royal Irish, Regiment of Dragoon Guards, he died the 26 of July , 1814, in the 77th year of his age.
No. 128. This tablet was ereeted in memory of Mary, daugh-